Welcome To Metrotown Massage Therapy - Burnaby's Top Registered Massage Therapists
Burnaby's Friendly, Knowledgeable & Effective Massage Therapy
A team of friendly, professional and amazing massage therapists (RMTs) in Burnaby that you'll recommend to everyone!
Years Of
Combined Experience
Registered
Massage Therapists
Days Per Week
Availability
We Provide Safe and Effective Pain Relief Treatments
Specializing in musculoskeletal rehabilitation, we offer tailored recovery for injuries to muscles, ligaments, bones, and create personalized plans for disabilities, ensuring pain-free body function.
If you have neck pain, massage therapy is an effective way of reducing this symptom.
We will help treat your low back pain by using massage therapy and targeted rehabilitation exercises.
Suffering from headaches? Often these are caused by tight neck muscles – we look forward to helping you.
Involved in an ICBC Car Accident? Whiplash is effectively treated by registered massage therapy – we look forward to reducing your pain.
Need help improving your posture because of prolonged periods at your desk or spending time on your mobile device? We can help with this!
Are Sciatica symptoms causing back, hip, and leg pain? Massage therapy treatments are safe and effective to help treat this common condition.
Meet Our Massage Therapists
With a team composed of experienced professionals possessing strong credentials, you can trust in the delivery of expert care on the path to enhanced well-being.
Registered Massage Therapist (RMT)
Rob Hemsworth has practiced at Metrotown Massage Therapy for over 20 years. He is a current clinical instructor teaching RMT students and has worked to advance research with the RMT Association of BC. 
Rob currently holds a Masters in Rehabilitation Science and two Bachelor's degrees.
Becoming a Registered Massage Therapist (RMT) advanced his understanding of injury rehabilitation through extensive training in the use of manual manipulation of body structures for the treatment and prevention of dysfunction, injury, pain and physical disorders.
Outside of patient care, Rob enjoys running, travelling, and spending time with his two French bulldogs – Fozzie and Blu!

Registered Massage Therapist (RMT)
Yolanda Fu is a graduate of Langara College's Registered Massage Therapy (RMT) program.
During her time at the University of British Columbia, she graduated with a Bachelor of Kinesiology (BKin) and developed an immense appreciation for how the many intricate systems of the human body connect and work together.
Yolanda has experience delivering Swedish massage techniques such as effleurage, petrissage and tapotement, and also uses myofascial release, trigger point release as well as active and passive stretching.
In her free time, Yolanda enjoys weightlifting, browsing on Netflix, and is an enormous lover of food!
Registered Massage Therapist (RMT)
Gina is a graduate of the West Coast College of Massage Therapy Program in New Westminster (WCCMT) and is an active registrant with the College of Massage Therapists of British Columbia.
Gina enjoys focusing on assisting patients in their recovery from motor vehicle accidents, whiplash, concussions, joint, and ligament issues. In addition to providing treatments for specific injuries, Gina also enjoys helping patients who seek relief from daily muscle fatigue.
During her treatments, she utilizes various techniques such as general Swedish massage, Myofascial release, trigger point release, and active stretching.
Registered Massage Therapist (RMT)
Born and raised in Toronto, Ontario, Devin was educated at the Sutherland Chan School of Massage. While studying in Toronto, he had the opportunity to work in co-op placements at Toronto General Hospital, Sunnybrook Hospital, the Lyndhurst Centre for spinal injuries, and Sutherland-Chan's own sports clinic. In these environments, Devin faced challenges that shaped the type of RMT he would become, focused on working with sports injuries, motor vehicle accidents, pregnancy, youth and children, persistent pain, headaches, and sleep quality.
After becoming licensed as an RMT in Ontario, Devin transferred to BC in 2020. Devin is fluent in English and French and has spent several years learning Japanese. Passionate about nature, travel, self-improvement, and family, Devin has a wife and 3 young children.
FOUNDATIONS OF OUR PRACTICE
Our Approach & Our Beliefs
Dedicated to enhancing your health and comfort, we specialize in providing personalized, secure, and impactful treatments that target pain related to neck pain, back pain, and muscle or joint discomfort. Our approach entails uncovering root causes, presenting strategies for future prevention, and empowering you to embark on a transformative journey toward sustained well-being.
Relieving Your Pain
With individualized treatment from our RMT's utilizing your feedback, we aim to relieve your pain.
Achieving Your Goals
Beginning on your initial appointment, we will set realistic goals for your treatment. Through treatment and rehabilitation, it is our hope to achieve them!
Treating You Like Family
Our goal is to ensure that each client feels valued and cared for, like they are a part of our family.
Simplifying Insurance Billing
With the hope of eliminating the need for you to submit on your own, our clinic can bill to most insurance companies, ICBC, and MSP.
Referring Out
We strive to help our patients to the best of our ability, and if we can't we will refer to someone we feel can best help.
Join us on a comprehensive four-step journey, where we work together to ensure you receive the best massage therapy treatment, tailored to address your individual needs.
When you arrive at our clinic, you will be welcomed by one of our team members and guided to fill out your intake form.
History / Physical
Assessment
In your treatment room, your RMT will complete a thorough history and physical exam.
Next, we will sit with you and explain your diagnosis and individualized treatment plan.
After receiving your consent, your RMT will work on the discussed areas and prescribe exercises (if needed).
Simply bring in your policy card, and our trained front desk staff will submit your claim on your behalf if your policy is enabled to do so.
See What Others Say About Us
Discover our clinic's excellence through the words of our patients. Contact us and schedule your visit!
I had a fantastic experience at this place today. The staff is not only friendly but also incredibly helpful. Today, I had the pleasure of receiving a massage therapy session from Gina and I can confidently say that I feel significantly better. She was skilled and attentive to my specific needs, which made the session truly therapeutic. The ambiance of the place was also soothing and added to the overall relaxation. I highly recommend this place for anyone looking to unwind and rejuvenate.
I've been having my RMT sessions with Yolanda and she is absolutely amazing to work with. She is an expert at her job and has a great personality. I highly suggest booking with her.
Great place! Rob does a great job for massage and releasing the tight crusty muscles. Highly recommend!

As always, I had a lovely experience at this clinic this week. The staff are so friendly and welcoming, and I love that you can get chiro and massage done back to back. Thank you to Gina for the fantastic massage!
This place is so friendly, I had Yolanda Fu and she was great. I felt so much better after my message and can't wait to go again 😊
I can't speak highly enough of Rob Hemsworth and his team. You will be greeted with the warmest "hello " when you come in and the "see you next time" when your appointment is finished. Rob has been my RMT for the last 10 yrs. Yes! That's not a typo. We have been through shoulder and back injuries, neck spasms and foot pain. He listens to your problem areas and treats them accordingly. He also gives stretching recommendations to try at home. You always feel relieved and relaxed after every treatment. Highly recommend Rob as your RMT. 11/10 ⭐️

I have been working with Rob for a number of years on my chronic back. He is the best and is highly recommended - he really cares about his patients and their well being. The office staff are wonderful always cheerful making it a pleasure to come here.
I am receiving massage services as a result of an automobile accident. I have found Robert Hemsworth, RMT, to be an exceptional massage therapist. He was highly recommended to me when I was looking for a massage therapist and I have found his services to be excellent. He is a very caring and welcoming person and works wonders as a result. I highly recommend the services of Robert Hemsworth as a registered massage therapist.
Beyond treatments, we prioritize your well-being with friendly service. Our team ensures you feel better, reflecting our genuine care. Serving Burnaby and nearby areas, we're dedicated to provide evidence-based massage therapy.
Kimbery Warner
Technician
Frequently Asked Questions
Navigate through FAQs for quick solutions. Discover responses to typical queries about our clinic services, appointments, and more. Empowering you with insights for a healthier you!
Massage therapy is generally not meant to be painful. The primary goal of massage therapy is to promote relaxation, relieve muscle tension, improve circulation, and enhance overall well-being. Skilled massage therapists use various techniques to provide a soothing and therapeutic experience for their clients.
However, there are different types of massage techniques, and individual experiences can vary. Some massage techniques, like deep tissue or trigger point massage, might involve applying deeper pressure to target specific muscle knots or areas of tension. While these techniques can be a bit uncomfortable at times, they should not cause significant pain. It's important to communicate with your massage therapist throughout the session. If you experience discomfort or pain during the massage, you should let them know so they can adjust their approach accordingly.
Remember that everyone's pain threshold is different, so what might feel uncomfortable to one person could be tolerable to another. If you're concerned about the level of pressure or discomfort involved in a massage, it's a good idea to discuss your preferences and concerns with the massage therapist before the session begins.
In a registered massage therapy session, it's common for clients to undress to a level that they're comfortable with, but it's not mandatory. The level of clothing removal can vary based on the type of massage, your personal comfort level, and the specific techniques being used.
Massage therapists are trained to maintain your privacy and provide a comfortable environment. They will typically leave the room while you undress to your comfort level and lie down on the massage table. You will be appropriately draped with sheets or towels during the massage to ensure your privacy and maintain a professional atmosphere.
Most often, clients choose to leave on their underwear, but you can choose to leave on as much clothing as you prefer. The important thing is that you feel relaxed and at ease during the session.
Before your massage, your therapist will discuss the level of clothing removal and any other concerns you might have. Clear communication with your therapist is crucial to ensure you have a positive and comfortable experience.
Yes, you can absolutely see a massage therapist even if you're not experiencing any specific pain. Massage therapy offers a range of benefits beyond just addressing pain or discomfort. Here are some reasons why you might consider seeing a massage therapist even when you're not in pain:
Relaxation: Massage therapy is known for its relaxation benefits. It can help reduce stress, promote relaxation, and improve your overall sense of well-being.
Muscle Tension: Even without pain, you might have muscle tension or knots that could benefit from some relief. Massage can help release muscle tension and improve flexibility.
Circulation: Massage can enhance blood circulation and lymphatic flow, which can contribute to better overall health.
Posture Improvement: Regular massage can help improve posture by releasing tension in muscles that might be contributing to poor alignment.
Preventive Care: Massage therapy can be a form of preventive healthcare, helping to prevent the development of muscle imbalances, stiffness, and other issues that could lead to pain in the future.
Stress Management: Stress can have a negative impact on both physical and mental health. Massage therapy can be an effective tool for managing stress and promoting relaxation.
Athletic Performance: If you're an athlete or engage in regular physical activity, massage therapy can help with muscle recovery, injury prevention, and optimizing performance.
Mind-Body Connection: Massage can enhance your awareness of your body, helping you become more attuned to how it feels and responds to different stimuli.
Self-Care: Treating yourself to a massage can be a form of self-care, providing you with a break from your daily routine and allowing you to focus on your own well-being.
It's important to communicate your goals and preferences to the massage therapist. They can tailor the session to your needs, whether it's relaxation, stress relief, or improving your overall sense of wellness. If you have any underlying health conditions, it's also a good idea to discuss them with the massage therapist before the session to ensure that the massage is safe and appropriate for you.
Absolutely, it's not only okay but also encouraged to communicate your preferences for pressure to a registered massage therapist. Every individual's pain tolerance and comfort level are different, and massage therapists understand this. They are trained to adjust their techniques based on your feedback to provide a massage experience that is enjoyable and effective for you.
If the pressure during the massage feels too intense or not intense enough, feel free to let the massage therapist know. They can modify their techniques to provide the level of pressure that suits you best. Open and honest communication ensures that you have a positive and comfortable experience during the massage.
Remember that your comfort and well-being are the top priorities during the massage session. Don't hesitate to speak up if you have any concerns, questions, or preferences regarding the pressure or any other aspect of the massage. Your massage therapist will appreciate your feedback and work with you to create a tailored experience that meets your needs.
Whether or not you talk to your registered massage therapist during your session is entirely up to you and your personal preferences. Massage therapy sessions are a time for relaxation and self-care, and different people have different preferences when it comes to conversation during the session.
Here are a few things to consider:
Silence for Relaxation: Many people prefer to relax and enjoy the massage in silence. This allows them to fully immerse themselves in the experience and let go of distractions.
Communication: If you have specific preferences regarding pressure, areas of focus, or any discomfort you're experiencing, it's important to communicate with your therapist. You can also communicate if you prefer certain areas to be skipped or if you want more attention on a particular area.
Guidance from the Therapist: Your massage therapist might occasionally ask you questions related to your comfort level, pain, or areas of concern. Feel free to respond honestly to these inquiries.
Small Talk: Some people enjoy light conversation during their massage. If you're comfortable and it enhances your relaxation, you can engage in small talk with your therapist.
Meditation and Relaxation: If you prefer a meditative experience, you might choose to focus on your breath, relax your mind, and let go of thoughts and conversations.
It's essential that you feel comfortable and at ease during your massage session. If you have any questions, concerns, or preferences, don't hesitate to communicate them with your massage therapist before or during the session. They will respect your preferences and work to provide an experience that aligns with your needs.
If you're ticklish before an RMT (Registered Massage Therapist) session, it's a common concern, and your massage therapist will be aware of this possibility. Massage therapists are trained professionals who encounter various sensitivities and preferences among their clients. Here's how they might handle the situation:
Communication: If you know that you're ticklish, it's a good idea to let your massage therapist know before the session begins. They will appreciate the heads-up and can adjust their techniques accordingly.
Techniques: Massage therapists have a range of techniques at their disposal. They can use deeper, more focused pressure or techniques that minimize the chances of triggering ticklish sensations.
Gentle Introduction: A skilled massage therapist might start with gentler strokes and gradually increase pressure as your body becomes accustomed to the touch. This approach can help you relax and minimize any ticklish sensations.
Focus on Relaxation: The massage therapist's primary goal is to help you relax and experience the benefits of the massage. They will work with you to find techniques and pressure levels that promote relaxation and comfort.
Draping: The use of draping (sheets or towels) during the massage can help reduce ticklish sensations. The therapist can use the draping strategically to provide a barrier between their hands and areas that might be more ticklish.
Breathing Techniques: Deep, slow breathing can help you relax and manage ticklish sensations. Focus on your breath during the massage to help your body settle into the experience.
Remember that massage therapists are professionals who are skilled in adapting their techniques to accommodate various sensitivities and preferences. If you find yourself ticklish during the session, don't hesitate to communicate with your therapist. They will work with you to ensure that you have a comfortable and enjoyable massage experience.
Stay up-to-date on the latest health tips with our informative blog. We share insights and analysis on a range of topics relevant to massage therapy and wellness.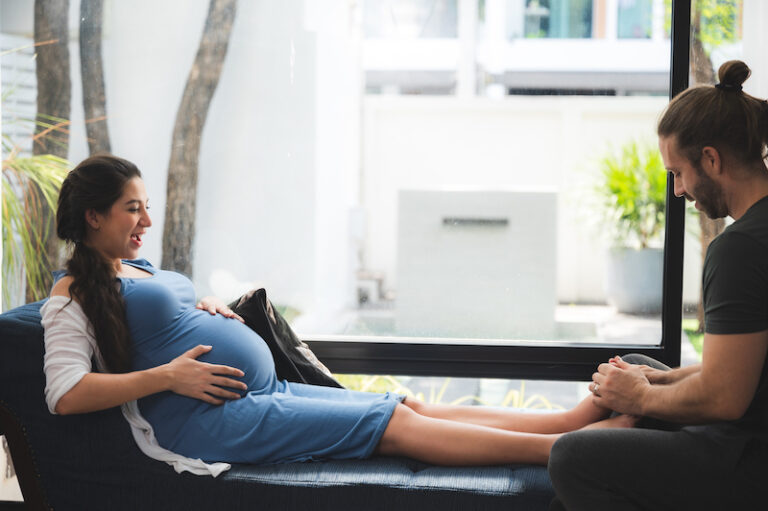 Registered massage therapy (RMT) is one of the most beneficial types of treatment for expectant mothers who are experiencing muscle tension and pain caused by
Read More
Stay in touch with us! Follow our page for the newest updates, health advice, and community stories.